Why family holidays in Crete!!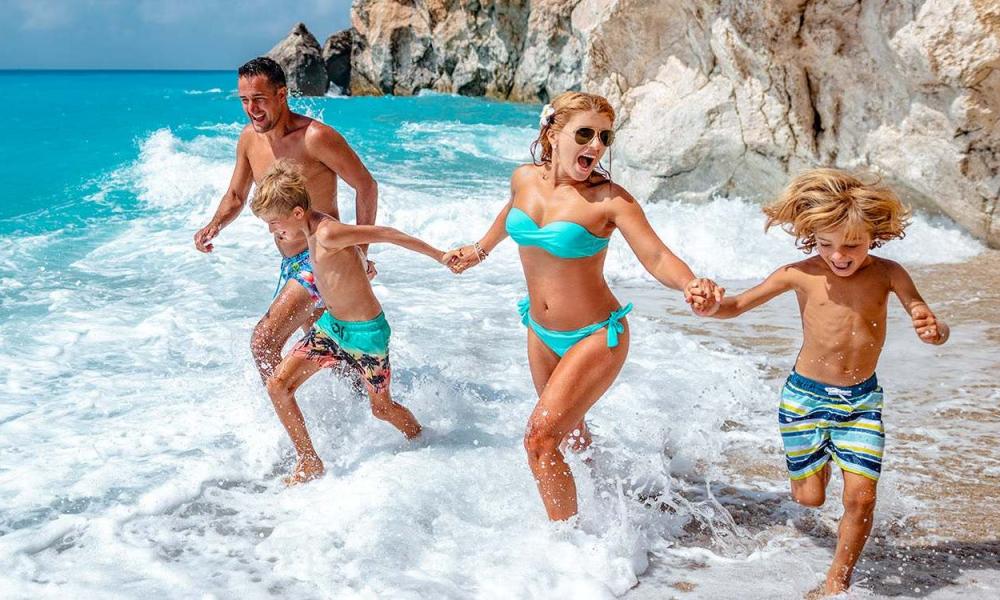 Is Crete Good For Family Holidays?
The answer is yes, of course, it is! Crete is one of the safest places you can think of. There are plenty of shallow beaches for children to swim and for you to relax.
No stress is always a good recipe for all the family. Food is also incredibly healthy but super tasty as well. The massive use of fresh vegetables, olive oil, and other superfoods are a guarantee that children will be eating the right stuff.
How is Life on the Island for Kids?    
On the island, life is simple and relaxed, while contact with nature is still a priority and a way of living.  Families that love adventure can easily camp and enjoy a stress-free stay as (moms will be happy to learn) there are no dangerous animals in Crete as well as no poisonous snakes.  If you are interested in more detailed information, check this useful list of tips for Holidays in Crete.
Crete is ideal for families
Crete, with its natural beauty, its shallow sea and sandy coves, its accessible beaches, its theme parks, its culture and history, offers endless possibilities and is a perfect place for an unforgettable family holiday. Modern accommodation facilities guarantee safety and comfort to visitors wishing to spend a carefree family holiday.
Crete is the Best area for families
As the largest of the Greek islands, Crete is a great choice for a family vacation. Almost every part of the island is suitable for families, but we've chosen a few special areas which make a good base for your vacation in Crete.
 Good climate
The climate in Crete is one of the best in Europe. The island's good weather throughout the year makes it an ideal destination for children and their families. Crete falls into two climate zones: the Mediterranean one to the north and the North-African one to the south. The temperature of the sea doesn't go below 15 degrees Celsius in winter, especially on the south coast. Winter is moderate, spring and autumn mild and pleasant and the fresh north winds alleviate the summer heat.
Safety everywhere
Another important asset Crete has to offer families who want to spend their holidays here is the overall feeling of safety on the island. Crete has a very low percentage of criminality and guarantees a peaceful holiday to its visitors. Equally important is the fact that there are no dangerous animals in Crete. Bears, wolves, and other large mammals, or poisonous snakes that can be harmful to human beings and exist in the rest of Greece, are not to be found on Crete and legend has it that Hercules, out of respect for Zeus who was born here, cleaned the island of all 'harmful and poisonous' animals. A later legend declares that this is the work of the Apostle Paul who, in the two years he spent on Crete, stowed blessings on the island and banished all dangerous animals. This is true too for the sea: swimming in Crete, as everywhere in the Mediterranean, is totally safe.
Pleasant stay
Those who travel with children in Crete benefit from high-quality services and hospitality in first-rate hotels or on organized camping sites. Swimming pools in hotels include smaller ones specially designed for young children and trained lifeguards keep constant watch. Besides offering special children menus, the hotels also have animators to entertain the children with games and magic tricks while the parents enjoy a drink at the bar. Qualified teachers in swimming lessons and sea sports, as well as basketball and football pitches and tennis courts are regular features in most luxury hotels in Crete. Babysitting is also available and most hotels baby proof the rooms if required by the parents to ensure a safe stay to the entire family.
Sea Tours kids love
The possibilities for families to explore the coastal regions of Crete are many. Every day small boats take visitors to the most famous remote beaches of the island, among them Balos, Preveli and the beaches around Sfakia. Most of these excursions take place on board bottom glass boats and put place emphasis on the discovery of marine life. These are memories that children will cherish all their lives. The tours are always a lively experience, with music, various onboard activities and food is often provided.
On the well-equipped beaches, it is possible to rent a pedalo and paddle boats to explore, the beauties of the nearby coast or to have fun fishing, together with your children.
Participating in environment and ecology actions
Environment and ecology are seriously taken into account in Crete and every year a number of clubs, associations and other entities organize educational activities for small children and their families. In Rethymnon, Chania and South Heraklion various programmes awaken public awareness on the protection of sea turtles who lay their eggs on the sandy beaches during the summer months. Associations for the protection of the environment, such as the Archelon sea turtle protection association take children to sea turtle nests and newly-hatched eggs and often let them be present to witness how turtles, who had previously been ill or injured, return to their natural habitat.
On the other hand, other entities such as the Museum of Natural History often organize educational activities linked to the island's wetlands. Cleaning beaches is yet another activity that these organizations take on, on a volunteer basis. Children can also observe birds who are set free, an exciting moment. Those activities allow children to come to direct contact with nature.
Cretan food for kids
The Cretan diet, at the base of the most famous Mediterranean diet, is a reason to choose Crete as a holiday destination. Children will appreciate natural and seasonal food. Moms will be glad to know that there are almost no fast-food restaurants in Crete. In fact, the favourite local fast food option remains the more healthy gyro or souvlaki. Usually, yoghurt replaces mayo and kids love the taste combined with grilled meat. Restaurants will always have rice, pasta, or fried potatoes to offer the picky ones that would rather pass on vegetables. Fresh fruit and Greek yoghurt, locally produced honey, home-made cakes, and pies are available everywhere for snacks on the beach.