Best Beaches in Greece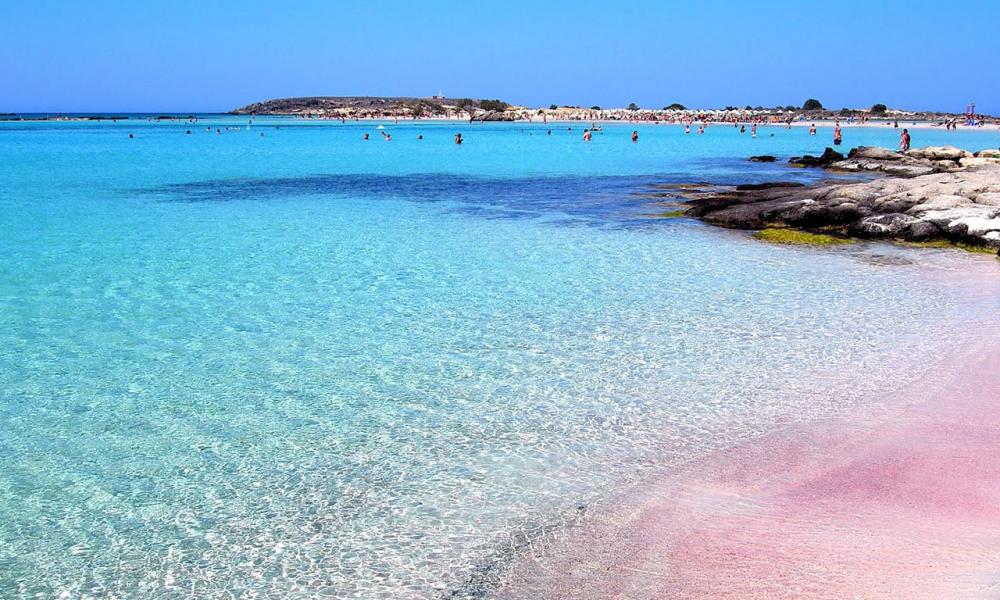 About the Beaches in Crete island
in Greece but also information about beaches in many locations of the island: Crete is the largest island of Greece and its coastline of 1,046 m (650 miles) provides hundreds of beautiful beaches. Located between the southern side of Aegean Sea and the northern side of the Libyan Sea, Crete gets very popular in summer due to the gorgeous beaches, the traditional lifestyle of the locals and the beautiful nature.
Among the most exotic sandy, Crete beaches are Balos, a wonderful place in Chania with crystal Caribbean-like water. This place amazes visitors with stunning natural beauty. Another of the most beautiful beaches of Crete is the exotic beach of Elafonissi in Chania, on the westernmost spot of Crete, as well as the long, sandy beach of Falassarna. Finding a perfect beach is not a problem for visitors, as there are nice clean beaches in Crete all around the island. Some Crete beaches are organized and others are secluded, but all are clean.
Occasionally in August, strong winds blow on the northern side of Crete creating large waves. These days the beaches are not appropriate for swimming except for skilled swimmers. Beaches on the southern side of Crete are less windy but sometimes they can also be affected.
Let us plan the trip of your dreams!
Check our super cool services and book your ferry tickets, car rentals, island hopping tours, transfers and more, easily!
List with the best 10 beaches in Crete
The large island of Crete is famous for its fantastic beaches. Small or large, organized or secluded, the beaches of Crete are wonderful places to spend a long day under the sun. Discover our best beaches of Crete: Balos, Elafonissi, and Falassarna in Chania, Preveli in Rethymno, Vai in Lassithi, and more.
 Balos beach
Chania

Balos is a fantastic location on the northwestern side of Crete, in the region of Chania. This amazing place is like the Caribbean side of Crete. With exotic waters, soft white sand and a huge island with a Venetian Castle on top, the beach of Balos amazes all visitors at first sight. It can be reached by car through a track road from Kissamos or by excursion boat from Chania Town and Kissamos.
Elafonissi beach

Chania

Located on the southwestern side of Crete, Elafonissi is a fantastic beach with exotic crystal waters. This place is a heaven on earth, with soft white and pink sand and with cedar trees reaching the coastline. Elafonissi means the island of the deer and is a magical place that should not be missed during your trip in western Crete. Part of the beach is organized with sunbeds and umbrellas.

Vai beach

Lassithi

On the northeastern side of Crete, in the region of Lassithi, is a fantastic beach called Vai. The special thing about this beach is that it is surrounded by the largest palm tree forest in Europe, consisting of 5,000 trees. The soft sand, the crystal water, and the natural beauty make this beach an inviting place for families. In the past, Vai was a free camping site but now free camping is prohibited there.


Falassarna beach
Chania


Falassarna is a large sandy beach on the western side of Crete, within a close drive from Kissamos town. This fantastic place is ideal for families with kids due to organized facilities and soft sand. It is also nice for windsurfing and in fact, there is a windsurfing station there in summer months. Above the beach, there is the archaeological site of Ancient Falassarna.

 Preveli beach

Rethymno

On the southern side of the prefecture of Rethymno is a place of great natural beauty, Preveli. This beach is actually where a river flows into the sea, passing through many palm trees and forming a lake close to the sea. There are water sports in this lake to explore the river, while the sandy and unorganized beach of Preveli is a wonderful place to swim.


Matala beach

Heraklion

Matala was famous in the 1960s and 1970s as a hippie place. In fact, many hippies would come and spend many days or even months in the caves above the beach of Matala. Today the hippies are long gone and the nice seaside village attracts many families for the long, sandy and organized beach. Matala is a convenient place to stay during your holidays in Crete and a nice base for excursions in the region.

 Rodakino beach

Rethymno

On the southern side of Rethymno, close to the tourist village of Plakias, is the large and sandy beach of Rodakino. Partly organized with sunbeds and umbrellas and partly secluded, Rodakino beach has soft sand and crystal waters, making it ideal for families with kids and for people looking for some calm moments. Some seaside taverns and apartments line up this beautiful place.


Plakias beach

Rethymno

Plakias is a lovely tourist place on the southern side of Rethymno, Crete island. The seaside village has many tourist facilities and a calm environment, away from the noisy world. Just in front of the village, there is a large and sandy beach with crystal waters. Part of Plakias beach is organized with sunbeds and umbrellas, while there are also some fish taverns and apartments lining up the beach.

Tymbaki beach

Heraklion

A vast beach with both sandy and pebbled parts, Tymbaki is located on the southern side of Heraklion. Also known as Kokkinos Pyrgos, Tymbaki has an organized part with sunbeds, umbrellas and few seaside taverns with delicious local recipes. Geographically Tymbaki is located between two large tourist places of southern Crete, Matala and Agia Galini, which makes it a convenient base for excursions in the region.

 Istro beach

Lassithi

In close distance to the town of Agios Nikolaos, in the region of Lassithi, is a nice beach with golden and white sand. Istro beach in eastern Crete is organized with sunbeds and umbrellas and provides a nice family place to swim. The crystal waters and the relaxing environment amaze all visitors at first sight. Due to its large size, Istro also offers some spots for privacy.
Are you looking for a hotel near one of the most beautiful beaches of Crete? Check our proposed Crete hotels.