Balos Lake (swim in crystal waters)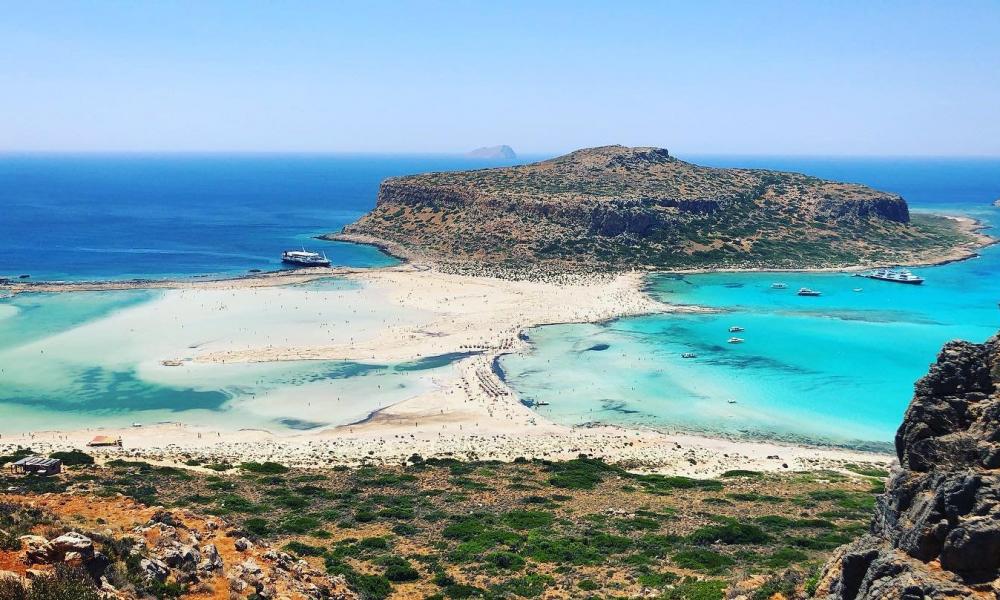 The way
We drive to west through the outskirts of Chania to the port of Kastelli.
Kissamos at first look seems to be a town with only a few fascinating things to do, however, the reality is totally different. Don't forget that at the west shore of Crete there are some of the most popular sights of the island, Balos & Gramvoussa island. Arriving in Kissamos from here the ships make a daily cruise to the island of Gramvousa and the Balos lagoon
Arriving at Gramvoussa island
From Kissamos port a boat will take you to the small island Gramvoussa with its imposing Venetian castle and breathtaking views. Due to its strategic location, Gramvoussa was fortified by the Venetians, who built a well-fortified castle on the top of a steep rock at an altitude of 137 m. In the fortress area, there are two large, domed reservoirs, which collect the rainwater from the paved streets. The island of Gramvoussa is a protected environmental area under the NATURA 2000 network. Access to Gramvoussa is possible only by boat. There are many scheduled daily trips to Gramvoussa and Balos departing from the port of Kasteli Kissamos. Opposite the island of Gramvoussa is the wonderful beach of Balos
Balos lagoon
After 2 hours of stay, the boat will take you to the lagoon of Balos. The fabulous clear water of the lagoon and the white coral sand makes an irresistible paradise for all guests.  Balos is one of the most popular tourist destinations in Crete, Greece. During the summer, Balos is visited by thousands of people, who arrive by the ferries running from Kissamos port. The lagoon of Balos has white sand and exotic white, vivid blue and turquoise waters.
https://www.crete-taxi-service.com/en/excursions/balos-lake-swim-in-crystal-waters